1.About price
As an innovative product, our team has spent about more than 1 year on research and development. We can confidently ensure you that this product is the Bluetooth HiFi audio that can not only be used as home art, but also meet the requirements of basic hi-fi home 360°surround qualities with reasonable price.
In the market, speaker in low price has high demand. Though people love it because it is cheap so that it doesn't hurt to lose it, it is far from the standard of HiFi. Speaker in high price, there are also many world-class brands, which are not only professional, but even have many functions, giving hi-fi enthusiasts the supreme enjoyment of beautiful sound quality, but the high price also daunt many people.
We were wondering why not make a high-end hi-fi speaker, which can not only be used as home art, but also meet the requirements of basic home 360°surround HiFi quality, and the price should be more acceptable, so that more people who have requirements for sound quality and design can list Tresound1 as a favorite.
Compared with some of the traditional HiFi brands, Tresound1 maintain the good quality and basic functions, but at a more cost-effective price.
2.About sound quality
Sound quality is the foundation of speakers, and it is also the most important consideration for every consumer to choose speakers.Therefore, for the sound quality of Tresound1, from the cabinet and speakers to the development of the acoustic system, we strictly control every step, and constantly debug and optimize to make it show the best results.
·

 

Wooden Cabinet
Plastic is the enemy of sound, and good wood can make a better sound. A team of craftsmen over 50 years old searches for good wood in the Nordic mountains and carefully selected them to meet the requirements of the HIFI cabinet standard.
·

 

Speaker parameters
Tweeters: 2*1.25" silk film neodymium magnetic tweeter.Standard high frequency can be extended to 20kHz (+3 dB) to achieve a high level of imaging accuracy and detail
Full-range Speakers: 2*2.25" double neodymium magnetic full-range speakers. The content of the low frequency of the tweeter and the high frequency of the mid-bass unit is reduced, which reduces the overall sound quality distortion of the three-way system, bringing better transient response, and the sound is more transparent and clear, full of resolutions.
Woofer: The foam suspension of the 5.25" woofer is thickened and widened to meet the suspension standard of a 6.5-inch speaker. In addition, the double-pressure thickened paper plate enhances the strength of the lower frequency.
·

 

Three-way acoustic system
(1) Acoustic engineers have decades of HiFi speaker design experience, sinking HiFi speaker technology to TreSound1.
(2) The three-way design is adopted without compromise, and the high frequency, medium frequency and low frequency are independently sealed and isolated into three cavities.
(3) The inverted tube design avoids sound wave attenuation and the acoustic short circuit, brings the performance of the horn to the fullest, and achieves high-fidelity sound quality.
·

 

Final sound quality
After more than 50 tests and debugging, the industrial design and acoustic structure are combined to bring out the best in each other.
3.About review
Some fans want to hear the sound in person. We don't have offline stores now, but we have sent out some review samples. You can hear what they said about TreSound1 from
here
. TreSound1 has received positive feedback by now.
Our TreSound1 is featured on Make Use Of. Make Use Of is one of the largest technology publications on the web. Check out the review: https://www.makeuseof.com/trettitre-tresound1-review/
4.About payment
Since quite some members complained about not being able to pay by PayPal on Indiegogo, we made it possible to place an order by PayPal on our website: TreSound1 – TRETTITRE (for those pre-ordered, please contact us to get a coupon)
You can also continue to make an order on Indiegogo, which currently accepts payments from direct credit/debit cards, Apple Pay, and Google Pay.
5.About shipping
Some of you have questioned that the waiting time is too long or shipping cost is too high. Because the 5 countries of the United States, the United Kingdom, Italy, France, and Germany can be sent through FBA warehouses, other countries are sent by Express. So the shipping time and cost will be different.
On the other hand, some from other countries (non-US/GB/IT/FR/DE) will receive the goods in June one after another, and you can pay attention to our Facebook to check more customers' arrival sharing.
Shipping update
TreSound1 has entered mass production now. We have our own factory in China to assemble the speaker. Our manufacturing partner is also working with some famous brand. The first batch of TreSound1 was shipped to our backers.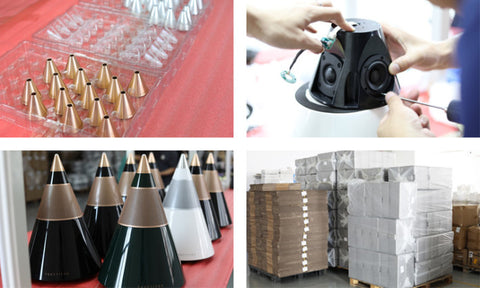 6. About return and warranty
We have 30 days free return and one year warranty. Please check more detail here
7. About the TRETTITRE team
Our team is based in both United States and China. Our chief designer Yong Cao and Master Carpenter Ping Luo come from China,where TreSound1 gets the traditional HiFi craftsmanship and creative inspiration. Our CEO Jeff Lyu and Project Manager Mike are music and art lovers who have a passion for creating the new generation of HiFi. Last but not least, our amazing Tuning Master and teacher of life Joesph dedicated himself years to helping TRETTITRE turn TreSound1 into a reality.Learn more about TreSound1 here